Oh. My. Seussness.
Today was a Wacky Friday.
Some crazy person (me) suggested that the second grade team switch class all day today and do different Seuss activities.
I was busy, but fun!
I am so thankful for all of the wonderful resources out there. We did not have to reinvent the wheel!
Here are the things the students did with each teacher:
(Click the pictures for the links.)
The SUPER FANTASTIC Horton. He turned out so cute!
from Erica Bohrer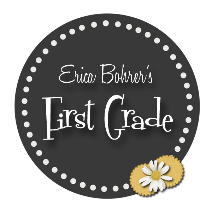 They made some fun little fish in bowls. (I think some fish got lost! Roll call! One fish? Here! Two fish? Here! Red fish? Blue fish?)
Wockets in Pockets!
From Southern Plate
They made Blue Goo outside. I wish you could see their faces. Their grossed out expressions cracked me up when I saw the pictures.
They made the obligatory hat.
And with me, they wrote about the Lorax.
I made mine into a hat to be extra cool.
Of course I had to strike a pose for our fab photographer. =P
The darlings had Green Eggs and Ham made by our FABULOUS cafeteria ladies and they were sent home with a bag of colored Goldfish and Scrabble Cheeze-Its that had the cutest
bag topper
. (Also free!)
I think Dr. Seuss would have loved the activities we did in his honor today. There's just so much stuff to do that we could just make it a Suessy month!
I hope you had a day as fun filled as ours. Who's going to see the Lorax tonight?!